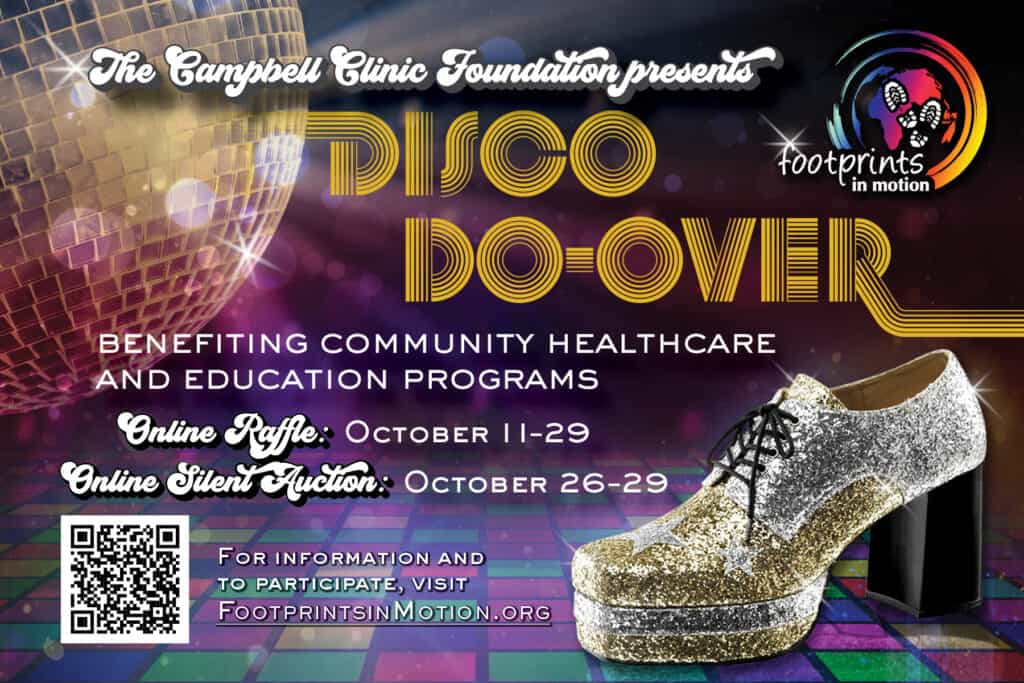 What's Footprints in Motion?
Footprints in Motion is the Campbell Clinic Foundation's signature fundraiser and annual community celebration. Proceeds benefit our health and education outreach, including the Campbell Clinic Foundation-led Center of Excellence for Cerebral Palsy Care & Research and annual medical mission trips to high-need communities in developing countries.
Everyone is invited and encouraged to participate as Footprints in Motion 2021 goes ALL VIRTUAL with an online raffle, auction and promotional campaign!
What's Happening in 2021?
Footprints Festivities will begin October 11 and conclude on Friday, October 29 at 10 p.m. CST.
From Hamilton to Hunting Trips, you'll find it in our auction and raffle! Each raffle ticket sold and auction bid helps the Campbell Foundation provide vital orthopaedic services and community outreach programs in our community.
Online Raffle: October 11 – October 29
Online Silent Auction: October 26 – October 29
This year's Online Raffle features three amazing offerings. Tickets sell for $100 each.
Stock the Bar
Weekend at Blackberry Farms
Hamilton, Hotel & Haute Weekend in Downtown Memphis
Raffle opens October 11.
From art to outdoor adventures, bourbon to baubles, there's something for EVERYONE.
Silent auction browsing and registration begins October 23. Online bidding begins October 26.
You must register on the site to bid and to keep up with the auction activity. The online auction closes Friday, October 29 at 10 p.m. CST.
Your support provides comprehensive care to CP patients, sends residents to impoverished communities and moves lives. Thanks for your support!
Thank you, Sponsors & Hosts!
Gentlemen Orthopedic Solutions
SunTrust / Truist
Campbell Clinic
CBIZ MHM
Diversified Trust
East Memphis Anesthesia Services
Mid-South Imaging & Therapeutics
Bass, Berry & Sims
Belz Construction Services
Cigna Healthcare
Commercial Bank & Trust
Davis Stokes Collaborative Architects
First Horizon Bank
Gephart Electric
Med Image Systems
Regional One Health
SVMIC
Novatech, Inc.
Insight Risk Management
Methodist Le Bonheur Healthcare
DirectFX
Southern Glazer's Wine & Spirits
Ms. Nancy Alyea
Dr. and Mrs. Frederick Azar
Mr. and Mrs. Jack Blair
Dr. & Mrs. James H. Beaty
Mr. and Mrs. Michael J. Bruns
Dr. and Mrs. S. Terry Canale
Mr. and Mrs. Al Gatti
Dr. and Mrs. Matthew Gill
Dr. & Mrs. Benjamin Grear
Dr. and Mrs. David G. LaVelle
Kelly and Mark Luttrell
Dr. and Mrs. G. Andrew Murphy
Mr. and Mrs. Frank T. Navarra
Drs. Julie and David Richardson
Dr. and Mrs. Christopher Sharp
Mr. and Mrs. Daniel Shumate
Mr. and Mrs. Gary Stavrum
Dr. Norfleet Thompson
Drs. Susan and William C. Warner, Jr.
Mr. and Mrs. Gary K. Wunderlich, Jr.
Thank you for your support of
Footprints in Motion!