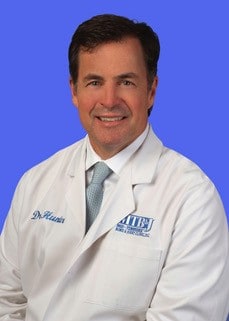 UT-Campbell Clinic residency and fellowship alumni are everywhere! They move lives in every way, excelling in patient care, research and innovation, teaching and mentoring, and healthcare leadership.
The Campbell Clinic Foundation highlights alumni stories to both celebrate their accomplishments and familiarize you with the extraordinary work and contributions made by their Campbell family members.
Name: Lee Hunter, MD, MDA
Class of 1997
Let's start with a little about you. Tell us a little about your current work and practice.


Currently, I live in Columbia, Tennessee and serve as a partner at the Mid-Tennessee Bone and Joint Clinic, which recently merged with Tennessee Orthopaedic Alliance. I'm an upper extremity surgeon, specializing in elbow and hand surgery. My hobbies include hunting, fishing and farming.

What have you done outside clinical practice to serve the field of orthopaedic surgery, e.g. society leadership, teaching, research, innovation, humanitarian/ service work, mentoring, etc?


I've been involved in American Academy of Orthopaedic Surgeons (AAOS) leadership, representing Tennessee on the Board of Councillors for two terms. I am also a Past President of the Tennessee Orthopaedic Society. I've performed medical mission work to Zimbabwe and St. Lucia.

What is something other alumni might not know about you?


I started a medical device company several years ago, called Hunter Medical. Check us out at www.huntermed.net

Our flagship product is the ElbowLOC Arm Positioning System, the world's first complete upper extremity positioning system. It's an all-inclusive one case system that offers 4 upper extremity positioning options : Supine, Supine Suspended, Lateral, and a Traction Tower. It covers all arm positioning needs from the humerus to the hand. It's functionality, intuitiveness, and ease of assembly are unrivaled in the industry.

We're making elbow and arm surgery technically easier and more efficient for surgeons, their patients, and facilities.

When you return to Memphis in April 2022 for Triennial, what is one thing you hope to do? (This can be FUN! It might be eating ribs, walking across the Mississippi River, meeting current residents, etc.)


Looking forward to some fine dining at the Rendevous and catching up with some old friends!

What's next? What's on the horizon for you?


I plan to expand the Hunter Medical product line and collaborate with other surgeons to improve our healthcare system.