During the Friday scientific session of the Alvin J. Ingram Lectureship, the Rising Star Award was presented. This award was given to promote an enriching and supportive climate for young surgeons and to spotlight an outstanding young surgeon who has displayed exceptional medical excellence, service, and involvement.
Nominees must have fewer than 10 years in practice, be of high moral standing, and demonstrate society engagement, clinical excellence, research activities, and leadership potential.
Dr. Robert Murphy, a 2014 UTHSC-Campbell Clinic Residency Program graduate, received the Rising Star Award, which was presented by Dr. Derek Kelly.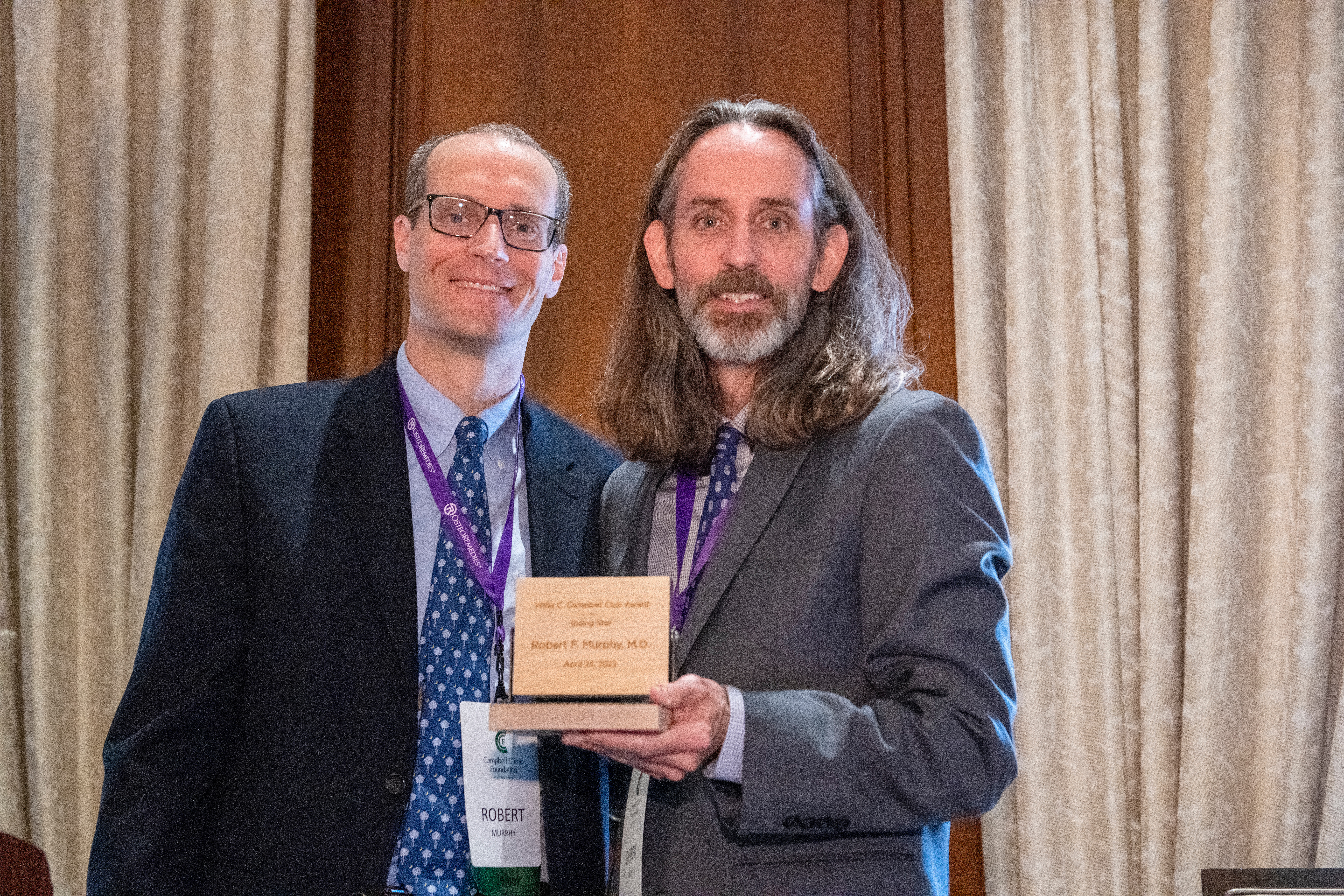 Dr. Murphy is currently Associate Professor of the Department of Orthopaedics and Physical Medicine at the Medical University of South Carolina (MUSC) in Charleston.
He received his medical degree from Emory University School of Medicine in Atlanta and completed his orthopaedic residency at the Campbell Clinic residency in 2014. He went on to complete a pediatric fellowship at Boston Children's Affiliated and Harvard Medical School.
His pursuit of excellence and involvement has been apparent since medical school where he was class president, became a member of the Alpha Omega Alpha Medical Honor Society, and served on the Liaison Committee for Medical Education. During his residency, he was voted chief resident by his peers. During his time as an orthopaedic resident, he volunteered his services at the Hospital Antonio Lenin Fonseca in Manuga, Nicaragua and continued this effort after graduation.
Dr. Murphy began excelling in surgery and academia in residency, and he now has over 60 high-impact publications to his name and an equal number of presentations. Currently, he is a member of the AAOS, AOA, SRS, POSNA and a principal member of the Pediatric Spine study Group. He is a member of the South Carolina Orthopaedic Association and Charleston Orthopaedic Society.
Dr. Murphy has been the recipient of many honors, awards, and grants for research and education, and were delighted to add the WCC Rising Star Award to his list of accolades.